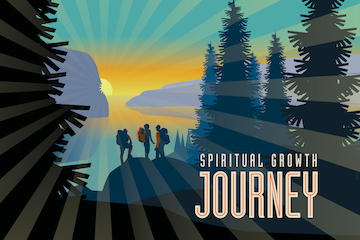 Spiritual Growth
Journey Courses
Fall 2022
Below are the courses that are being offered this Fall. Please read through the descriptions and then sign up for any courses you would like to participate in at the bottom of the page.
---
Starting Point
Sundays at 10:30am starting October 23 (8 weeks)
Starting Point is a gathering where your questions about God turn into a conversation about faith. You can discuss your doubts and explore the trickiest topics of faith, free from pressure and judgment. Whether you're new to faith, curious about God, or coming back to church after some time away, it's a place where your opinions and beliefs are valued, and no question is off limits. Led by Kim Rhoades.

The Roots of Faith
Thursdays from 6:15- 8:00pm beginning September 15 (Fall through Spring)
The Roots of Faith is a chronological journey through the whole Bible, from Genesis to Revelation. TROF isn't some dry lecture series, it is a fun, interactive learning experience that will help you see God's redemptive plan unfold as you explore the Bible, its stories and people, like you never have before. Led by Rebecca Kangas.
There is a $50 fee for the course which includes two beautiful, fully illustrated workbook binders which each contain over 200 pages of lessons, maps, illustrations and more that will be covered during the course.

Closer

Sundays at 10:30am beginning September 25 (8 weeks)
How do we grow in our relationship with God? One way is by practicing the classic disciplines of the Christian life: worship, prayer, service, fasting, and more. The aim of this seven-session study is to help us understand and enjoy (not dread!) the various disciplines, and to grow closer to God by integrating the disciplines more fully into our lives.
Led by Pastor Mike Giannotti.

Divine Design
Saturday, November 12 from 9:00am - Noon &
Saturday, November 19 from 10:00am - Noon
Learn how to make serving both fruitful and fulfilling. Divine Design will
help you discover your spiritual gifts, personal style, and God-given
passion for serving in the body of Christ. During two three-hour
sessions you will discover the spiritual gifts God has given you and the
best places for you to serve and put your gifts to work in God's
kingdom so that serving is a joy. Led by Alicia Somers.


Membership Class
Saturday, November 5, 10:00am-Noon
Interested in becoming a member of Keystone or learning what membership is all about? This is the place to start. You'll learn about Keystone's beliefs, mission, vision, and values (why we do what we do), and what it means to be a member. There are also plenty of opportunities to ask questions so you'll be better able to make an informed decision about membership. Led by Pastor Chris Jarrett.
---
Please register one person at a time (do not sign up as Bill & Sue Smith).
If you have any questions, please contact Pastor Chris Jarrett at 734-944-5397 or chris@keystonechurch.us.
---