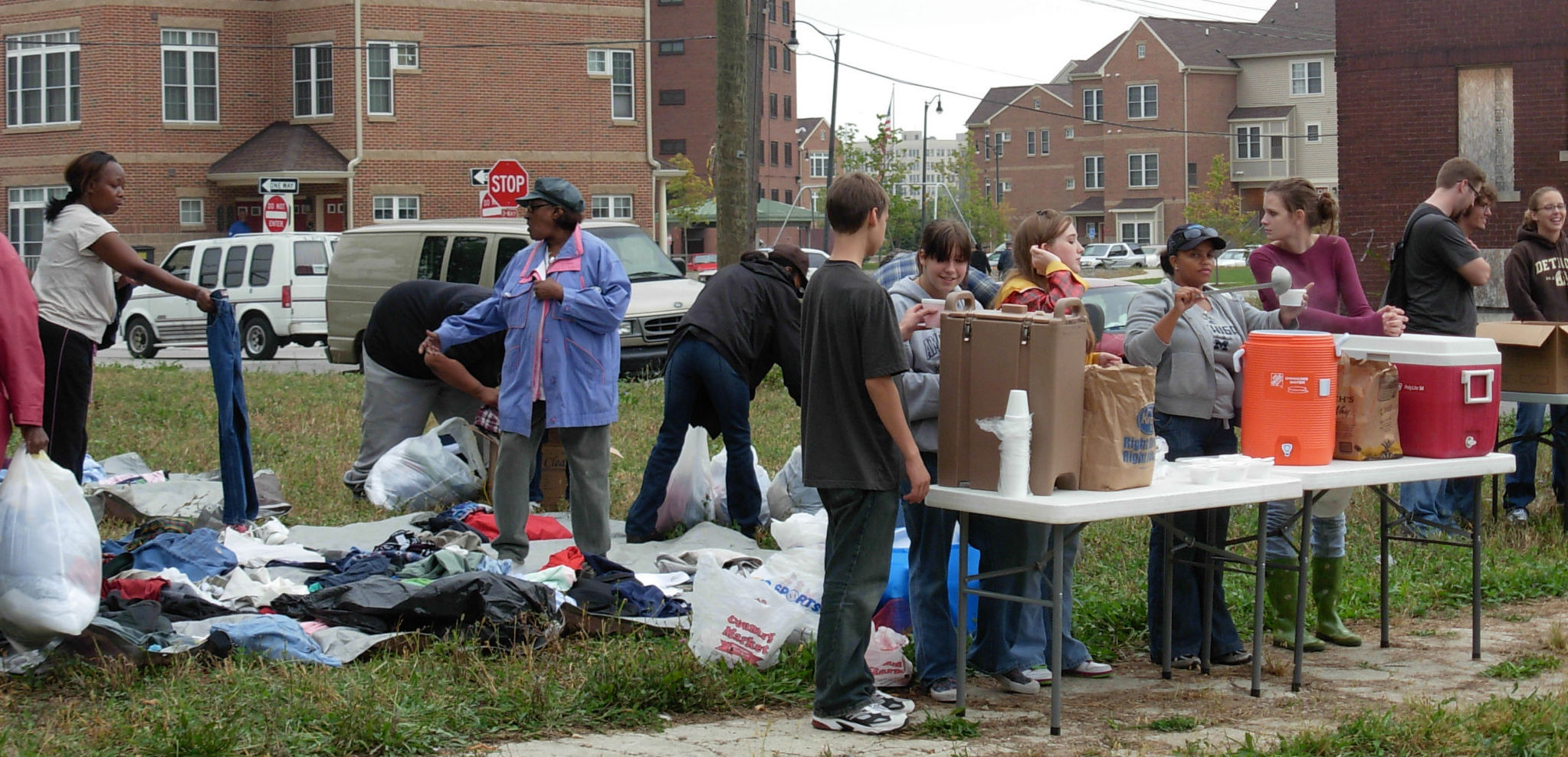 Cass Corridor
is a street mission in inner city Detroit aimed at meeting the most basic of needs for the homeless and poor. The fourth Saturday of each month, volunteers from Keystone Church and St. Paul's United Church of Christ, 122 W MI Ave in Saline, partner to travel down to Cass Park and distribute a hot meal and distribute hygiene kits, gently used clothing and specialty items such as blankets and coats at Christmas.
While meeting tangible needs of food and clothing, the greater need is to share the gospel of Jesus Christ. You have an opportunity to talk with, develop relationships, and pray with those who respond to this outreach. On a typical Saturday up to 150 men, women and children are served.
There are several ways you can help:
1) Prepare 3 dozen homemade cookies and package them 3 to a small baggie for easy distribution. Please bring them to St. Paul's UCC by 10:30am the Saturday you signed up. You can deliver them on Friday and drop them in the double glass door enclosure if the office is not open.
2) Help set up at at St. Paul's from 10:30am - Noon to make sandwiches, prepare hygiene kits, and such. Children of all ages are welcome to help in the morning with their families in Saline.
3) Deliver and distribute items at Cass Park. Meet at St. Paul's by 11:00am. Carpool to Cass Park in Detroit. Distribute food, clothes, hygiene kits and such from the sidewalk. Dress accordingly for the weather! Return around 4:00pm.



4) Attention! The Cass Corridor environment can be unstable. Therefore, it is recommended that students going to Cass Park should be at least high school age and must serve with their parent.



If you have any questions, contact Tracy Fosdick at 734-646-7970.
Please complete the form below to volunteer to help.
Thanks!
---