moi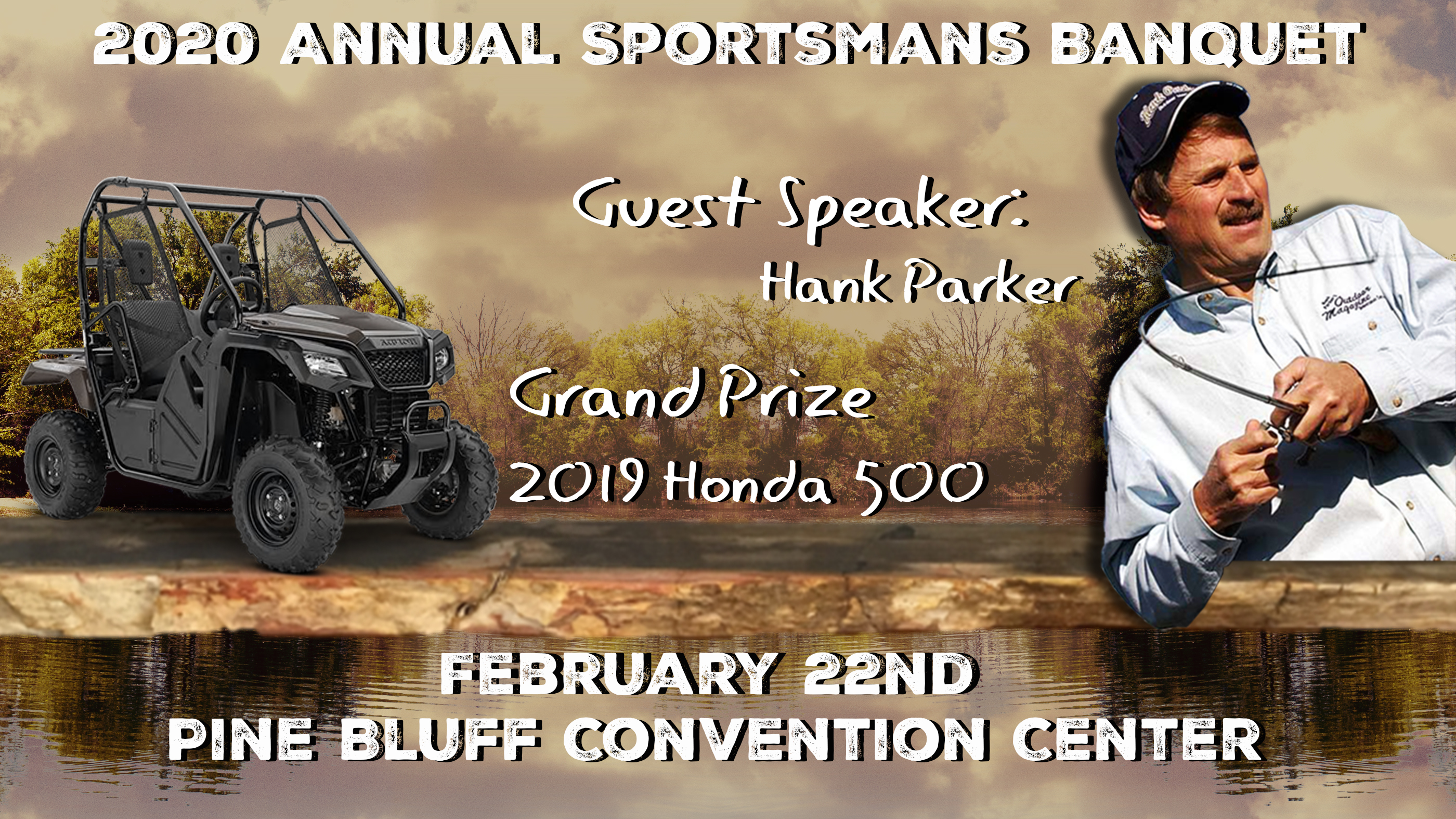 The 2020 Ironman Sportsman's Banquet, is Saturday, February 22nd at the Pine Bluff Convention Center Arena. Doors open at 5pm. Vendors available. Food starts at 5:15pm and program starts at 6:30pm.
Guaranteed to be an evening full of food, fabulous prizes and fun fellowship for men, women, and families you don't want to miss.
GUEST SPEAKER INFO
We will be joined by guest speaker Hank Parker, once introduced as "the rod-n-reel answer to Michael Jordan, in popularity and talent!" Hank has enjoyed a storied professional bass fishing and outdoor television host career that continues to grow each season! His accomplishments on the professional bass fishing tournament trail support the fact he is one of America's greatest bass fishermen to ever compete. Over the years as an outdoorsman, Hank has been honored by being inducted in the Bass Fishing Hall of Fame, the Legends of the Outdoors Hall of Fame and the International Game Fish Association Hall of Fame. After 30 plus years of television Hank's track record of integrity is shown in that he still has partnerships with most of the companies he started with. Even with all of Hank's awards and successes, he is still a regular guy whose charm and wit make you realize how much he truly loves people and sharing his passion for the outdoors.
PRIZE INFO
Grand prize giveaway is a 2019 Honda Pioneer 500 with many other additional giveaways. Must be present with ticket in hand for prizes.
TICKET INFO


Tickets are $25 each. One ticket includes one opportunity for prize giveaway, one meal, and one admission to program. Cannot buy multiple opportunities for prizes (one ticket equals one opportunity per person). Suggested age for children is age 7 and up (all children must purchase a ticket). Tickets can be picked up at our church office located at 2500 Hwy 104, Pine Bluff, AR 71602 M-Th 9am-4pm (closed noon-1 for lunch) OR we can also hold tickets for pickup night of the event. Pickup at office and night of event require proof of purchase. Tickets will be sold night of event based upon availability.
VENDOR INFO
Limited vendor space is available and must be approved prior to event. Vendor fee is $25 and that fee will be donated to our fundraising effort. If you would like a space for a vendor booth, please email your request to info@familychurch.ws.

SPONSOR INFO

Platinum $2,500
- Signage displayed on stage railing (you provide) and verbal mention at event; logo on our photo op backdrop; vendor table spot; 1 extra ticket to win door prizes; 25 event tickets

Gold $1000 - Signage displayed on stage railing (you provide) and verbal mention at event; vendor table spot; 10 event tickets

Silver $500 - Verbal mention at event; 6 event tickets

Table $150 - Table sponsor sign, 2 event tickets
Sponsors forms and payment must be received by January 31, 2020. Sponsorships help donate to The Union Rescue Mission's Dorcas and Nehemiah House.
SPONSOR FORM LINK (CLICK HERE)

Sponsor Online Donation Link

FUNDRAISING INFO
This event is raising money for the Union Rescue Mission in central Arkansas, which helps people with domestic violence and drug/alcohol recovery program through their Nehemiah House for men and Dorcas House for women. We ask you to make a donation as you register if you are able.
Ironman is a ministry of Family Church
2500 Hwy 104 Pine Bluff, AR 71602. www.familychurch.ws 870.247.3300